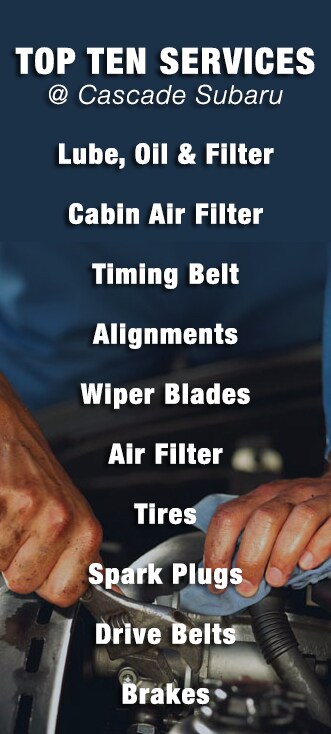 Schedule Service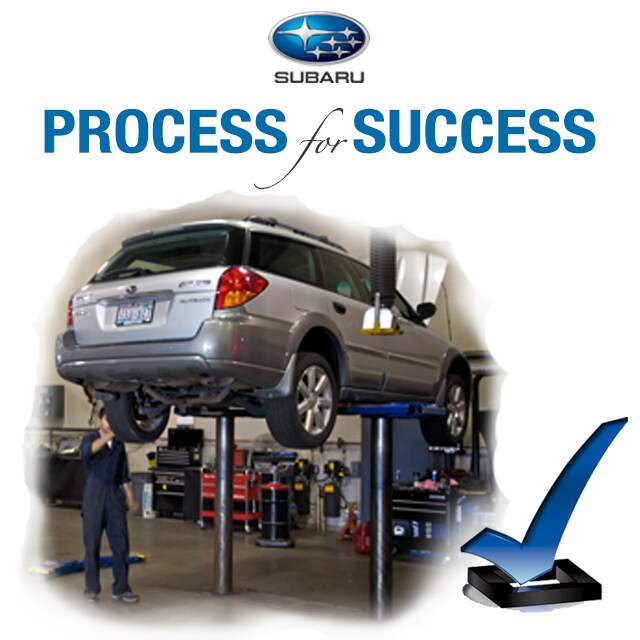 CASCADE SUBARU... practices a process that we believe facilitates our goals of providing excellent running Subarus, more-than-expected service and happy customers. Below is a description of that process. We value your response and feedback. Please feel free to
contact us
at any time.
Eric Dalbeck - Cascade Subaru Service Manager
---
TECHNICIAN RESPONSIBILITY
READ AND UNDERSTAND CUSTOMER CONCERN
PULL FILE FOR HISTORY IF NECESSARY
TEST DRIVE
DIAGNOSE CONCERN
PERFORM AND FILL OUT INSPECTION FORM
COMPLETE REQUISITION FORM
DELIVER REQUISITION TO A.S.M.
WAIT NO MORE THAN ½ HOUR FOR RESPONSE
PERFORM REPAIR
TEST DRIVE TO VERIFY REPAIRS
PULL HAT TAGS / FLOOR MATS / PARK / MAP
WORK IN PROGRESS
GET AUTHORIZATION FOR REPAIRS IN ½ HOUR OR LESS
KEEP TECHNICIAN INFORMED AT ALL TIMES
GET ALL WORK AUTHORIZED /
NEVER GO ABOVE ESTIMATE FINAL INVOICE
CALL CUSTOMER WHEN SERVICE COMPLETE
DOCUMENT ON WORK ORDER DATE AND TIME
CUSTOMER WAS CALLED. ( UPPER RIGHT HAND CORNER )
ACTIVE DELIVERY
MAKE SURE KEYS ARE IN OFFICE
MAKE SURE MAP IS WITH WORK ORDER
COPY OF SURVEY WITH WORK ORDER ( WARRANTY )
ASSISTANT SERVICE MANAGER TO GO OVER
WORK ORDER WITH EVERY CUSTOMER.
PERFORM ACTIVE DELIVERY EVERY TIME
GO OVER IMPORTANCE OF SURVEY WITH CUSTOMER
MAKE SURE CUSTOMER KNOWS LOCATION OF VEHICLE
FOLLOW-UP PHONE CALL OR EMAIL
DEPENDING ON CUSTOMER PREFERENCE.
---
CASCADE SUBARU SERVICE MENU
For more information about recommended service intervals and mileage service packages as well as specific maintenance or repair options for your vehicle, see our
SUBARU SERVICE MENU
.
Cascade Subaru is conveniently located at 150 Easy Street in Wenatchee, Washington.  Our service center maintains and repairs vehicles from all over the region, and we have many satisfied customers - not only the Wenatchee area, but also from Quincy, Moses Lake, Ellensburg and Leavenworth. See our
Customer Testimonials
page to find out why!