The 2021 Subaru Love Promise Customer and Community Commitment Award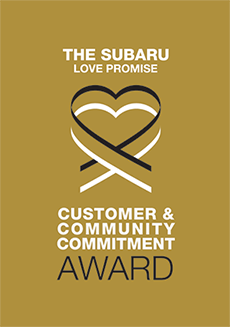 We've been nationally recognized for our dedication to our customers, our community, and the Subaru Love Promise.
We're honored to receive the 2021 Subaru Love Promise Customer and Community Commitment Award. This award nationally recognizes elite Subaru retailers who provide an exceptional customer experience at every interaction with Subaru. These retailers have also demonstrated an outstanding commitment to supporting passions and causes in their local communities in important areas such as the environment, community, health, education, and pets.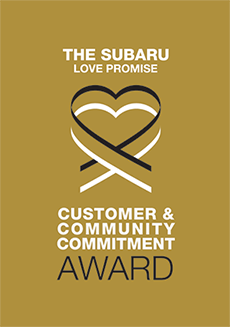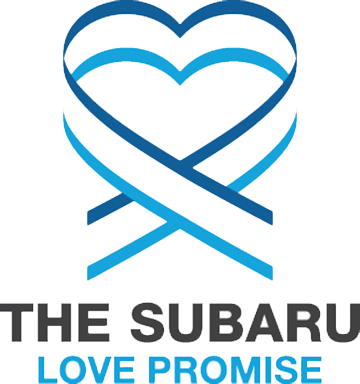 What is the Subaru Love Promise?
Subaru and our retailers believe in making the world a better place and the Subaru Love Promise is our vision of respecting all people. This is our commitment to show love and respect to our customers and to work to make a positive impact in the world.
How is Cascade Subaru - Wenatchee dedicated locally to the Love Promise?
Cascade Autocenter if fully committed to our customers and community. We operate our business on the GUEST principle, Greet every guest with, Undivided attention, Engaged enthusiasm, Smile and smile again, Thank them for visiting Cascade Autocenter. We also believe that the Love Promise is a symbol of respect toward our customers and a statement of pride in how we do our work. It is our call of service to develop meaningful relationships that create stronger communities. We believe that we can't go wrong by doing the right thing.
Wenatchee Valley Humane Society, Wenatchee Friends Improving Dog Opportunities
Chelan & Douglas County Land Trust, Wenatchee Outdoors
Don't Wait - History Project, Live for Adventure Kid's Race
Mission Ridge Ski & Board Resort, City of Wenatchee Summer Concert Series
Alatheia Therapeutic Riding Center
Love Promise Stories from Cascade Subaru - Wenatchee
Subaru and Cascade Subaru - Wenatchee believe in making a positive impact on the communities in which we live and work. We uphold that belief through our Love Promise Community Commitment. Every month, we select inspiring stories from customers and partners from around our area who strive to support our collective commitment and feature them here
Subaru Loves Pets! - Renee P
I wanted to thank you for working with us on this project again this year. Although not nearly as fun as some of what we've done in person in the past, the impact was AWESOME!! With your help, we adopted out 249 pets during this virtual event!! That is definitely something to cheer about. Thank you for your continued support and I can't wait until we can put our heads together for something fun in person!
---
Subaru Loves to Help - Will S
Cascade Subaru brought 80 blankets to the Lighthouse Ministries homeless shelter. These will be handed out alongside sleeping bags to those most in need!!
---
Cascade Subaru Plants for Mule Deer Habitat - Will S
On Wednesday November 11th, some employees from Cascade Subaru came out and joined the Rotary Club of Wenatchee, the Chelan Douglas Land Trust, and nursing students from Wenatchee Valley College to help plant native brush and bushes after two fires ravaged the area in years past. These bushes we planted will provide food as well as a place for mule deer to hide during winter from hikers and will limit the amount of stress the mule deer population endures during their stay in this highly popular mule deer wintering zone.
---
Subaru Loves Pets - Will S
Cascade Subaru has a long history with our local animal shelter, the Wenatchee Valley Humane Society. Through the Subaru Loves Pets initiative, The Wenatchee Valley Humane Society has been the beneficiary of many donations ranging from cash donations to blankets, towels, treats, and animal carriers. In addition to the Subaru Loves Pets program, Cascade Subaru has helped the shelter by hosting spay/neuter and adoption clinics as well as helping us acquire grant money. Thank you Cascade Subaru!
---
Mission View Elementary is So Grateful! - Amy F
The look of wonder on the kids faces when they opened the excellent science titles, given to our school by Cascade Subaru, said it all. They were instantly captivated and engaged. To receive a gift of books that will be added to our libraries, both the main library and teacher's classroom libraries, is an important one that impacts over 500 students. With budgets tightening, quality reading materials are always in need, and high quality science texts make learning about the world much more engaging! Thank you, Cascade Subaru, for helping Mission View's love of reading and science grow!
---
Cascade Subaru Cares for Wenatchee Cancer Patients - Katie J
On July 10th, Cascade Subaru partnered with the Leukemia & Lymphoma Society (LLS) to deliver blankets and encouraging cards to inpatients and outpatients at Confluence Health in Wenatchee. Each patient received a beautiful blanket and hand-written message of hope from customers at Cascade Subaru. The Leukemia & Lymphoma Society exists to find cures for cancer and improve the quality of life of cancer patients and their families and Subaru helps LLS by donating critical research dollars. One patient shared that they already use LLS services and was so happy to share that an LLS person spoke with her for over an hour on the phone about her cancer diagnosis through the First Connections program. Most people showed a glimmer of relief learning about available services. One man asked about financial help with fuel for transportation and upon hearing this, Mr. Abel Noah at Confluence Health and the Cascade Subaru associates agreed that they would also look into providing help with that as many patients drive in from miles away (2-3 hour car rides!) Thank you to Cascade Subaru for providing this opportunity for patients at Confluence Health and for supporting the Leukemia & Lymphoma Society by helping fund live-saving cancer research and patient services.
---
Subaru Shares the Love with Chelan-Douglas CASA! - Heather B
A HUGE thank you to Cascade Subaru for supporting the Chelan-Douglas CASA, and the kids we serve, through Subaru's Love Promise. With the outstanding $17,000 donation, we will continue our mission in providing a CASA (Court Appointed Special Advocate) for every abused and neglected child in need. Thank you to everyone at Cascade Subaru for your commitment and dedication in raising an incredible amount of money to support our work. As CASAs, we fulfill one of society's most fundamental obligations by providing qualified, compassionate adults to fight for a child's right to safety, respectful treatment and the opportunity to learn and grow in the security of a loving family. We will continue our commitment in educating others about child abuse and neglect and what, as a community, we can do to improve outcomes for our most vulnerable citizens, our children. Thank you for Sharing the Love and your commitment to bettering our community!
---
Our First Public Dog Park! - Carin S
After several years of hard work, the City of Wenatchee will have its first public dog park opening in the spring of 2017! Hale Park, located at the south end of the Apple Capital Recreation Loop Trail, will include a 2.5-acre dog park divided into areas for small and large dogs. Thanks to the fantastic support of Cascade Autocenter and Subaru of America, the Wenatchee Valley Friends Improving Dog Opportunities (FIDO) has achieved its goal of raising sufficient matching funds for the City to complete Phase One of the project. The Hale Park Off-Leash Area will provide a much-needed recreation area for dogs and their owners to socialize, exercise, and have fun. FIDO is very thankful for this support!
---
Summer Solstice at Saddle Rock with Cascade Subaru - Rebecca F
On behalf of the Chelan-Douglas Land Trust, I would like to thank the Cascade Subaru Service folks and families for their community outreach project of picking up trash on the Saddle Rock Natural Area trails on Monday evening, June 20. It was a beautiful evening and, though not a glamorous job, everyone had a good time and Saddle Rock looks much better after their hard work of removing several bags full of trash! Amazing job everyone! Sincerely, Rebecca Frank Stewardship Assistant Chelan-Douglas Land Trust
---
Adult Literacy Made Possible by Subaru - Anwen C
The Literacy Council of Chelan and Douglas Counties provides free English as a Second Language classes to any adult who is motivated to learn. We were incredibly fortunate to be recipients of the Subaru Share the Love campaign. The generous $15,000 donation we received from Cascade Auto Center and Subaru supports us in providing small-group instruction for our students and a meaningful experience for our volunteer tutors. We rely on community support for our program, and it showed up in a huge way with this gift. Thank you for investing in adults who have the motivation to improve their lives through education and language acquisition!
---
Cascade Subaru Crowned Our Hero - Reimi M
Miss East Cascades Scholarship Organization crowns Cascade Subaru our HERO! It takes wonderful people and businesses with a vision and trust in their community to step forward and lend their support in times like these, and thanks to Cascade AutoCenter / Subaru of America, our presenting sponsor, we were able to hold our 5th Annual 2016 Scholarship competition which would not have been possible due to the loss of our former corporate sponsor. The Miss America Organization and its 52 licensed organizations like our Miss East Cascades, is the nation's largest provider of scholarship assistance to young women, awarding millions of dollars annually in cash awards and in-kind tuition waivers. We are thrilled that Steve Baldock and Glen Carlson showed trust in the Miss East Cascades Scholarship Organization (MECSO) which is open to women, 17-24 of age in Chelan, Douglas, Okanogan and Kittitas counties who are interested in serving in a leadership role that fosters community service and excellence. We appreciate Cascade Autocenter and Subaru!
---
Love Promise Shares Big with Special Needs Riders - Alatheia R
Cascade Subaru and Steve Baldock know how to make and keep a Love Promise in a big way! Alatheia Riding Center of Wenatchee provides therapeutic horseback riding services to individuals with special needs. Alatheia riders benefitted in a big way through Subaru of America's "Share the Love" campaign. Cascade Subaru selected Alatheia as the local recipient of this national fundraising effort. Local sales staff did an amazing job of promoting Alatheia and $250 from each Subaru sold was donated to our riders. This record-breaking promotion yielded $10,770 to Alatheia in April of this year. Alatheia is grateful for the Love Promise and Cascade Subaru's commitment to "doing what is right and good, just for the sake of doing it!"
---
Dedicated to Community - Tony H
Mission Ridge is inspired by the mountains and seeks to help others find this inspiration on the slopes of their hometown hill. This mission would not be possible without the support of Cascade Subaru through their partnership as the Official Vehicle of Mission Ridge and their sponsorship of the 5th Grade Learn to Ski Program. It is Cascade Subaru's dedication to community that allows all area 5th grade students the opportunity to seek inspiration in the mountains and get out on the slopes with free lift access, gear rentals, and a lesson. In these ways, Cascade Subaru enables our community to literally and figuratively access the mountains. Our Subarus get us there and Cascade Subaru helps get us and our children on the slopes to ski and snowboard. Thanks for sharing the Love!
---
Wenatchee Foothills Feel the Love! - Sharon L
The Wenatchee Foothills provide a stunning backdrop to the city and are a much-loved destination for hiking, biking, and exploring, and they provide essential habitat for mule deer and other wildlife. The Foothills are now permanently protected and available for all to enjoy thanks to Cascade Autocenter and Subaru leadership support of the Chelan-Douglas Land Trust's Wenatchee Foothills Campaign! By providing a matching gift that helped inspire an outpouring of support from the community for the Foothills Campaign, Cascade Autocenter and Subaru are ensuring that our community remains livable for today, and for future generations. The Chelan-Douglas Land Trust greatly appreciates this investment in our community's beauty and quality of life!
---
The DON'T WAIT History Project - Lisa B
In every community, there are people who are part of history,soldiers who fought in wars, entrepreneurs during economic hardships, survivors of illness before there were cures and husbands and wives who lost great love, only to find it a second time. The DON'T WAIT® History Project uses innovation and technology through depth interviews, photographs, video, print and social media to bridge the gap between youth and seniors by telling stories significant to the history of people in the Wenatchee Valley. Each interview is conducted with the participation of local broadcast media and journalism students who are responsible for helping capture the stories on film and in interviews-a unique opportunity for our youth to reach out and discover the stories of our local seniors. Our partnership with Subaru helped launch The DON'T WAIT History Project Exhibit at the Wenatchee Valley Museum & Cultural Center, which later moved to Pybus Market. Future exhibits are excitedly anticipated and wouldn't have been possible without the initial support of Subaru.
---
The Love Promise - Subaru Loves Dogs! - C S
Getting support early in a project can be a challenge. In 2013, Wenatchee Valley FIDO (Friends Improving Dog Opportunities) agreed to assist the City of Wenatchee with fundraising, planning and maintenance of the first-ever public dog park in the Wenatchee Valley. We had already been working for several years on this idea and were finally able to move forward when land was donated to the city. In 2013 we were relatively unknown in the community and so had not proven ourselves to observers. It takes people and businesses with a vision and trust in their community to step forward in such early stages and lend support. We are thrilled that Steve Baldock and Glen Carlson showed trust in the work FIDO members are doing and that they share our vision for dogs and humans to get together and have fun! With their support over the past two years we have grown significantly and have become a trusted group in our community. Cascade AutoCenter / Subaru of America has been the sponsor for our monthly Pack Walks for the past year, showing their trust in our ability to help spread the love and joy of being with our dogs. When the city was awarded a state park grant this year, FIDO was able to provide the necessary matching funds to enable the city to accept the grant. We feel the love!
---
Homeless Pets Are Given The Promise of Love! - Dawn D
Each year, nearly 5,000 animals come to the Wenatchee Valley Humane Society. Some are lost; some are stray; some have been abandoned; some owners could no longer care for their pets; some are injured or abused. Some are transferred from other shelters where they ran out of time. All of these pets have one thing in common - they need our help. And that is exactly what Cascade Subaru gives them! Thanks to the generosity of Cascade Subaru, the Wenatchee Valley Humane Society has expanded their services and programs to provide assistance for pets and the people who love them. We Love You!
---
2015 Summer Concert Series - Sarah F
We appreciate Cascade Subaru so much for their on-going generous support of our Summer Concert Series each summer! Not only do the sponsor one of the popular downtown shows, they also feature the performers on the electronic sign each week. The publicity give an amazing boost to our program! Thanks so much, Cascade Subaru, for continuing to help us bring great talent into our community to perform downtown each summer! You have been such a great, supportive partner to work with.
---
The Love Promise - Subaru Loves the Earth - Glen C
Spring came early to the Wenatchee Valley this year. By April Fool's Day, flowers had popped, buds had burst and the surrounding hills were draped in folds of vibrant green. The green theme moved indoors with the kick-off of the Subaru Loves the Earth - E-Waste Recycling Event at Cascade Subaru. We planned a vigorous community outreach campaign to spread the news about E-waste collection points in both the Subaru showroom and service center. Steve Baldock, Cascade Autocenter President, recorded a radio commercial inviting the public to recycle at the dealership. Cascade also utilized our Subaru website and social media to further the message. Homepages slides directed web visitors to a special landing page and the Cascade Subaru Facebook page was employed as another outlet for recycling news. By the end of the first week local recyclers had filled two bins full, by the second week four bins were bulging with various and sundry technical gear. In the final E-Waste Facebook post, the program was summed up like this, "THAT'S A LOT OF JUNK! One month of e-waste recycling at Cascade Subaru is officially over. Four huge boxes of old computers, monitors, hard drives and other assorted tech waste were collected. A hearty thanks to all who participated!"
---
Service Director Praise - Eric D
Dear Mr. Dalbeck Today I had the misfortune of tampering with my 2011 Subaru in order to find out more about the various feature of this vehicle. I was widowed earlier this year and never made familiar with most of the features of this vehicle. After a fiasco, I called your repair department and was connected with Jamie, who assisted me in (3 calls) in such unbelievably friendly and informative way and was even willing to stop after hours to possibly investigate my incompetence. What she suggested resolved the situation and I can't find words worthy to tell you what a wonderful model you have in this lady to represent Subaru. She is not only intelligent but never made me feel like the incompetent I am. Please accept my congratulations in hiring her....she is a pearl. Sincerely, Mrs. Elfie M.
---